The 17th Annual Grown and Sexy Cruise 2018, is all set to enthrall you coming Feb 2018. The cruise is set up on the all new and stunning Cruise line - The Royal Caribbean Liberty of the seas. The cruise line which has been recently renovated, will be the perfect setting for you and your family to spend your vacation. The Grown and Sexy Cruise was originally founded by Keith KJ Jones in 2000. Over the years, the cruise has developed into one of the most prevalent African - American themed cruises
When is Grown and Sexy Cruise 2018
Jan 14 to Jan 21, 2018
Where is Grown and Sexy Cruise
Where to Stay for Grown and Sexy Cruise
More New Orleans hotels and Hotel Reveiws!
What to Expect at Grown and Sexy Cruise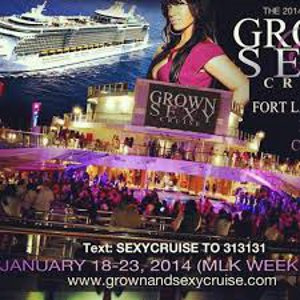 The Grown and Sexy Cruise 2018 is going to offer you a variety of delights on an enormous scale. You are guaranteed one week of continuous entertainment, sightseeing and event galore. The Cruise Line - The Royal Caribbean Liberty of the seas, is filled with exhilarating pleasures such as surf simulator, rock climbing wall, ice-skating rink, royal promenade, 3D theater, mini golf course, vintage wine bars, spas and many more.
Itinerary of events during the Cruise:
Fabulous set of events have been planned during the cruise. A snapshot of the scheduled events are as follows :
Mix and Mingle on the Deck
A ravishing pool party
Black Affair Dinner party
A one hour cocktail party
All grown and Sexy Private events ( when you book through the official travel agent )
Besides, you are also offered a bottle of wine per cabin, some exotic foods and awesome cabin accommodation
Places/Ports the Cruise will visit during the trip:
The Grown and Sexy Cruise 2018 is scheduled to start on Sunday Jan 14th, 2018 and return on Sunday February 21, 2018. The sailing itinerary is as follows:
Am sure after reading this article you cannot resist not going to the grown and sexy cruise 2018!
What Need to Attend Grown and Sexy Cruise
More Info and Grown and Sexy Cruise links