THE SUPER BOWL CRUISE 2018
When:
Cruise Dates: February 3-8, 2018
Where:
Ports-of-Call: Miami Dominican Republic – Grand Turk
Ports of Call: 
SAT: MIAMI, FL
SUN: SUPER BOWL AT SEA —
MON: GRAND TURKS
TUE: AMBER COVE, DOMINICAN REPUBLIC
WED: FUN, FUN, FUN, DAY AT SEA
THU: MIAMI, FL
Super Bowl Cruise by W Hots 2017
Super Bowl Cruise by W Hots 2017
What to Expect:
We all deserve to get-away from the "hustle and bustle" of everyday life. All work and no play leads to a dull life;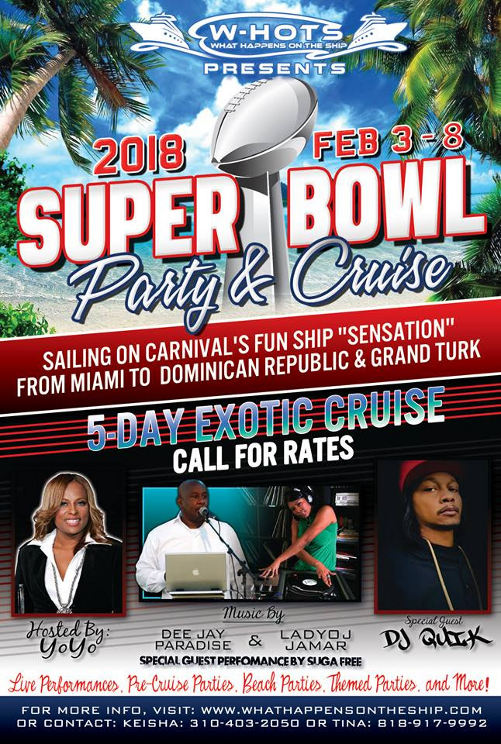 therefore re-energize yourself!!!
The W-HOTS team will create a lifetime of memories beyond your wildest dreams.
We will make it easy for you; all you need to do is relax, sit back, and leave all the planning to us; low deposits, affordable, easy payment plans, and all the fun you can possibly imagine.
You have so much to look forward to when traveling with the W-HOTS Travel Group… FUN and more Fun!!!
We have organized group vacations such as the popular Super Bowl Cruise.
We also offer roommate suggestions at no additional cost for those that would rather not travel alone but just can't find anyone to accompany them.
Our average traveler age range from the early 30s to the mid 50s, however, we do get the young at heart 60+ year olds as well. Don't let this scare you because every age group is welcome so whether you are 25, 55 or anywhere in between or beyond, you will enjoy the camaraderie, fun and safe traveling with the W-HOTS Travel and Entertainment Group.
We guarantee you will have an amazing vacation experience while exploring the amazing sites, cultures, and beauty of the world with all of your great friends and loved ones; both old and new.
What Exactly Is The Super Bowl Cruise?
The Super Bowl is not just about a game, it is about a party. What better way to gather friends and complete strangers and party at sea for 5 days non stop.
What Happens On The Cruise?
From sunrise to sunset and around every corner for 5 days, there's something planned for you. All white parties, dance party an. Prepare to be fully involved with so many activities
What Are The Cost For This Cruise
Accommodations on board the ship (5-nights)
Port Charges & Government Taxes
Meals, Snacks, and Most Beverages
24-Hour Complimentary Room Service & Pizzeria
Use of Ship Facilities (Three Pools, Six Whirlpools,
Fitness Center, Salon, Spa, Casino, Library, Duty-Free Shopping Mall)
Private Event Pass which includes:
Meet & Greet Reception
Gift Bag
Concert Tickets
Fun In The Son Activities featuring Karaoke
Theme Parties with a special guest DJ
Comedy Show
Sunday Praise & Worship
Seminars by Guest Speakers
Fitness Classes
To Reserve a Cabin visit: http://www.whathappensontheship.com/cruises/super-bowl-at-sea-2018/