Festival at the Sea 2019
Depart from Beautiful Ft. Lauderdale, to depart on the Festival At Sea. A true grown and sexy cruise event that takes you all over the world.
The festival at sea is one of the oldest Black cruises. Tom Joyner might get all the press but Festival at Sea is the originator.
For over 20 years this cruise has been hitting the high sea and visiting some of the most exotic destination in the world.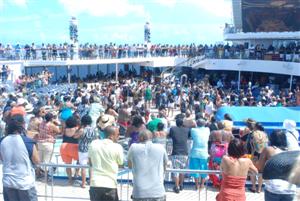 Festival At Sea Dates: July 20 - 27, 2019
Departs from Ft. Lauderdale
Ports of Call:
San Juan PR
Tortola BVI
Punta Cana DR
Key West FL
Festival At Sea Video
The Festival At Sea is the longest running African-American Themed Charter Cruise in the World!
Blue World Travel's "Festival at Sea" and "Friends of Festival at Sea" programs have hosted over 40,000 guests over the past 20 years. Experience what everyone loves about the #1 African-American Cruise
FESTIVAL AT SEA is the ORIGINAL African American themed cruise. Entering our 28th year of Cruising with an African-American Twist, we've set the bar high.
On Festival at Sea we bring top-name entertainment to perform for you in our venues. DJ's spin music in our onboard clubs and our White Night and Costume Theme Nights are off the hook. The days are filled with dozens of activities, shows and classes that will keep you moving throughout the week. That's why so many people make it their annual Family Reunion at Sea.
Some of our exclusive events include:
Speed Dating
Gospel Brunch
Worship Service and Bible Study
Bid Whist
Dominoes
Aqua Zumba = Steppin' Classes
Urban Line Dancing
UNCF Bachelor Auction
Boot Camp Workout
African-American Idol
Urban Ballroom Dancing
Family Feud
Jewelry Raffle Giveaway
Stomp The Deck Frat and Sorority Step Competition
2 on 2 Basketball Tournament
Gospelcise
African Attire Evening & Fashion Show
Renewal of Wedding Vows
Beach Parties
plus much much more!
All of this is wrapped up in 7 days of excitement and celebration ... plus 4 ports and two days at sea!
Once on the ship, you'll notice there's fun everywhere you look ... the dance clubs are delicious, the show lounges spectacular, and each bar makes even a simple drink a chance to chill in a setting less ordinary. Our Festival at Sea staff plans events for cruisers young and old alike, including our top name entertainment ... old school and new school clubs (with the music you wanna listen to) ... family friendly activities ... games for singles and couples ... theme nights ... costume parties ... there's a reason we call it FESTIVAL at SEA!
"The camaraderie of cruising with over 2000 other black folks from all around the country is what truly makes Festival at Sea the special event that it is."
There's also Love Connection and Speed Dating games for singles, plus Funk Aerobics and African Dance Aerobics classes. Join the Ahneva Ahneva Fashion Show, the Spoken Word Poetry Cafe or participate in a Bid Whist, Dominoes, Golf or Tennis tournament. And that's just the beginning.
Festival at Sea brings it's own DJ teams to rock the clubs on board all week long. Our professional MC's and DJ's play the music you wanna hear whether you're Old School, New School or anywhere in between.
And with several clubs to choose from each night, you can change it up anytime. We also have a deck party under the stars, and party theme nights like Wild Wild West and our Cool White Night.
Plus, you have access to everything else you normally would on a Carnival Cruise. 3 swimming pools. A spa and health club with massages, steam rooms and saunas. A full casino featuring slots and tables.
Shore excursions. A shopping promenade. And when you're hungry, there are full service restaurants for fine dining as well as casual eateries including Pizza, Asian, Rotisserie and an International Deli.
Since all meals are included, you may want to leave a little room for dessert. Additionally, for a special evening, there is a private supper club that carries a nominal surcharge.
Perhaps the best thing about a Festival at Sea cruise however, is YOU. You make the experience possible. The camaraderie of cruising with over 2000 other black folks from all around the country is what truly makes Festival at Sea the special event that it is.
What you need to attend.
Passport
Hotel in Fort Lauderdale
Reserve Room on the ship:
Travel Insurance

More Info at:
Festival At Sea
Share