Ship-Hop Hooray!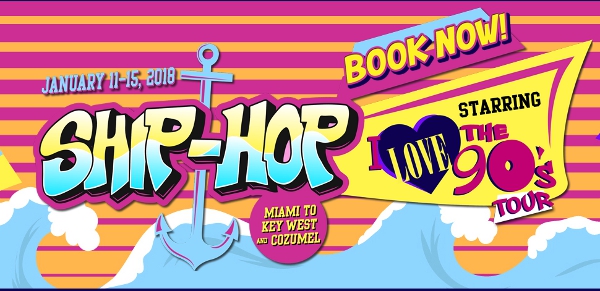 Microphone check 1, 2… Let's talk about this cruise baby!
Dates: January 11-15, 2018
Ports: Miami to Key West & Cozumel
Description: Ship-Hop drops in 2018 and we're going to add some old skool beats to your ultimate vacation break! Featuring over a dozen of the most iconic names in 90s Hip-Hop and R&B, and hosted by the one and only Downtown Julie Brown, the boat will shoop ba-doop with live performances of hit jamz all week long!
Setting sail January 11-15, 2018, from Miami to Key West & Cozumel, we'll christen the Carnival Sensation with everything you love about the trend-setting decade of the 90's, transforming your wack daily life into a gangsta's paradise and VIP-worthy Caribbean holiday!
So if y'all wanna party like we do, then click below to learn more!
THE OFFICIAL LINEUP FOR THE 2018 1990s HIP HOP CRUISE




• Salt-N-Pepa
• Vanilla Ice
• Naughty By Nature
• Blackstreet
• Kid 'N Play
• Coolio
• Color Me Badd
• Sisqo
• Tone Loc
• Biz Markie
• Young MC
• Rob Base
• All-4-One
• C+C Music Factory
• DJ Kool.