The First Annual Soul Cruise To Cuba
When: February 19–26, 2017
The first-ever soul music cruise to Cuba on the Fathom Adonia cruise ship!



From the producers of the world-famous Capital Jazz Fest — A new event: The Soul Cruise! A more intimate and exclusive version of our flagship cruise (The SuperCruise), this new event will combine your love for soul music with your desire to learn about the life and culture of Cuba.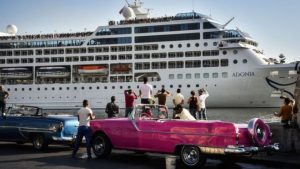 While at sea, you'll enjoy live performances and activities featuring some of your favorite soul music artists…as only Capital Jazz can do! While in Cuba, you'll participate in a cultural exchange program that gives you the opportunity to interact with the Cuban people, one on one.
Pioneered by Fathom — a newly-created brand of Carnival Corporation — "impact travel" is a whole new category of travel that provides the opportunity to build community with like-minded travelers, become immersed in another culture, and work alongside its people to create enduring social impact.
This cruise offers a truly historic opportunity: a chance to help build new bridges to a rich and vibrant culture that, until now, hasn't been open to U.S. travelers by sea for more than 50 years.
Walk Havana's Old City, visit a UNESCO World Heritage site;  visit to an organic farm; A meal at a home-based restaurant; An English workshop with students at a local primary school; A brainstorming and idea-sharing session with local microentrepreneurs; Or a chance to interact with local artists and musicians in their own environment, as you deepen your understanding of the arts as a vital bridge between people and cultures.
Your time on the island is intended to be a true cultural immersion experience – part learning, part sharing, and lots of pure enjoyment – as you get to know the Cuban people face to face.
So join us as we make history on this first-ever soul music cruise from the U.S. to Cuba!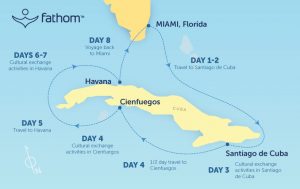 Hosted by Eric Roberson
Talent Lineup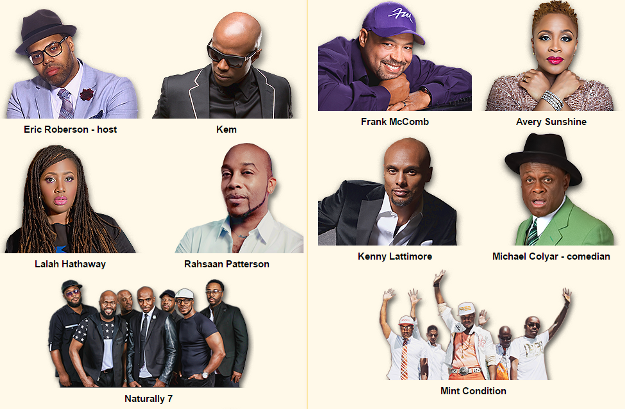 Hosted by Eric Roberson
Kem
Lalah Hathaway
Rashsaan Patterson
Naturally 7
Frank McComb
Avery Sunshine
Kenny Lattimore
Michael Coylar
Mint Condition
Itinerary
Day 1 – Sunday, Feb 19, 2017
Depart Miami, Florida at 4:30pm*
Day 2 – Monday, Feb 20, 2017
Fun Day At Sea
Day 3 – Tuesday, Feb 21, 2017
Arrive Santiago de Cuba at 9:00am
Depart at 6:00pm
Day 4 – Wednesday, Feb 22, 2017
Arrive Cienfuegos, Cuba at 2:00pm
Depart at 8:00pm
Day 5 – Thursday, Feb 23, 2017
Fun Day At Sea
Day 6 – Friday, Feb 24, 2017
Arrive Havana, Cuba at 8:00am
OVERNIGHT STAY IN HAVANA
Day 7 – Saturday, Feb 25, 2017
FUN DAY IN HAVANA
Depart Havana at 2:00pm
Day 8 – Sunday, Feb 26, 2017
Arrive Miami, Florida at 7:00am
For Pricing / Reservation
Visit: http://www.capitaljazz.com/soulcruise/pricing.cuba.php