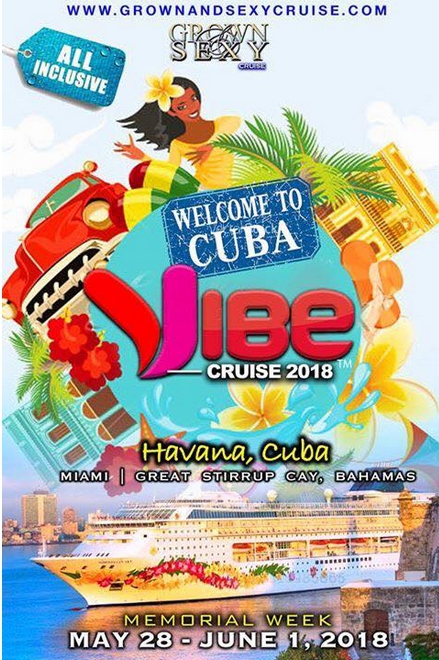 When is the Vibe Cruise:
Memorial Week May 25-June 1, 2018
Where Does the Vibe Cruise Leave From:
Miami Florida.
Ports-of-Call:
Miami – Bahamas
Vibe Cruise description:
This Memorial Day Weekend, KJ Events brings you the 5th Annual "Vibe Cruise"!! 3 nights of non-stop parties and events in a way only the "Grown & Sexy" can do it!!
The 5th Annual Grown & Sexy Vibe Cruise Heads for the first time ever to HAVANA, CUBA! Memorial week, Kicking off in MIAMI, with our Signature Theme Parties, Shows & Events
The door to Cuba's soul, Havana captivates with its larger-than-life culture, sultry rhythms and weathered beauty. Take a relaxing stroll along the evocative Malecón, the quintessentially Cuban thoroughfare and get lost among the Baroque facades and colonial cobblestone streets of Old Havana.